CAT'S MEOW COOKIES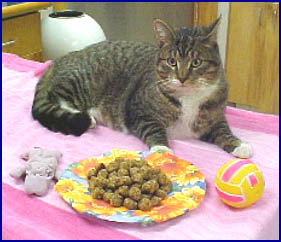 Ingredients:
7 oz. Mashed Sardines (2 cans; drain oil)

1/4 cup Dry Non-Fat Milk
1/2 cup Wheat Germ

Thoroughly mix ingredients together.
Roll into 30 balls about the size of a marble.
Place on cookie sheet treated with fat-free, non-stick cooking spray.
Bake at 350 degrees until brown, about 12-15 minutes.
Let cool before removing.
Store soft cookies in air-tight container in refrigerator.